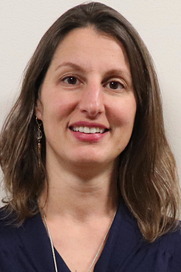 Jessica Chicco
Director of Citizenship and Training
email
(617) 350-5480, ext. 212
Habla español, parla italiano, fala português
Director of Citizenship & Training Jessica Chicco (she/her) joined MIRA as Staff Attorney in January 2020 after more than a decade working with immigrants and immigrant communities. She oversees our education and training programs and our citizenship program, and will also work on federal policy issues.
Most recently, she was the Senior Immigration Attorney at DOVE (Domestic Violence Ended, Inc.) in Quincy, a MIRA member organization, where she represented immigrant survivors of domestic violence. Before joining DOVE, she was the Human Rights Fellow at Boston College's Post-Deportation Human Rights Project, where she focused on advocacy and representation of deported individuals as well as various interdisciplinary collaborations with community-based immigrant organizations in the greater Boston area.
She started her legal career as an associate attorney at Human Rights First's Refugee Protection Program in New York, where she provided legal rights presentations to detained immigrants and co-authored a report on the detention of asylum seekers.
Outside of work, Jessica serves on the Diversity, Inclusion and Community Relations commission of her town, with a focus on immigrant advancement. Jessica spent her childhood in Italy, and has lived and studied in Corsica, Senegal and Spain.  She holds a JD from NYU Law School and a BSFS from Georgetown University.