Immigrant Assistance Services Program (IAS)

In May 2023, The Massachusetts Immigrant and Refugee Advocacy Coalition received a $1.75 million grant from the Commonwealth of Massachusetts to pilot an Immigrant Assistance Services Program (IAS).
About the Program
MIRA's Immigrant Assistance Services (IAS) program provides targeted legal and case management support to newly arrived immigrants residing in Massachusetts' emergency assistance (EA) hotel and motel shelters that were in operation as of 6/26/23. IAS case managers will work with program attorneys to ensure that every family referred through the program receives:
A free legal consultation with an experienced immigration attorney
Help applying for a work permit (if eligible)
Help with changes of address, motions to change venue, Freedom of Information Act requests and other legal triage needs
Support around benefit eligibility and enrollment
Help communicating with legal partners and completing any follow up work requested by the attorney
Some families served by this program will also receive help in filing pro se asylum applications. 
 Eligibility:
To be eligible for our services, families must:
Have arrived to the U.S. in the past 5 years
Currently residing in one of the designated EA hotel/motel Shelters. For inquiries about which shelters qualify, please contact IAS@miracoalition.org
Not already represented by a licensed attorney or DOJ Accredited Representative
 Point of Contact: 
Please email us at IAS@miracoalition.org
Volunteer with us!
MIRA is looking for volunteers to ensure this program runs smoothly and successfully. If you're interested in volunteering, please fill out our Volunteer application here.
Contact Kate Froehlich, kfroehlich@miracoalition.org with any questions.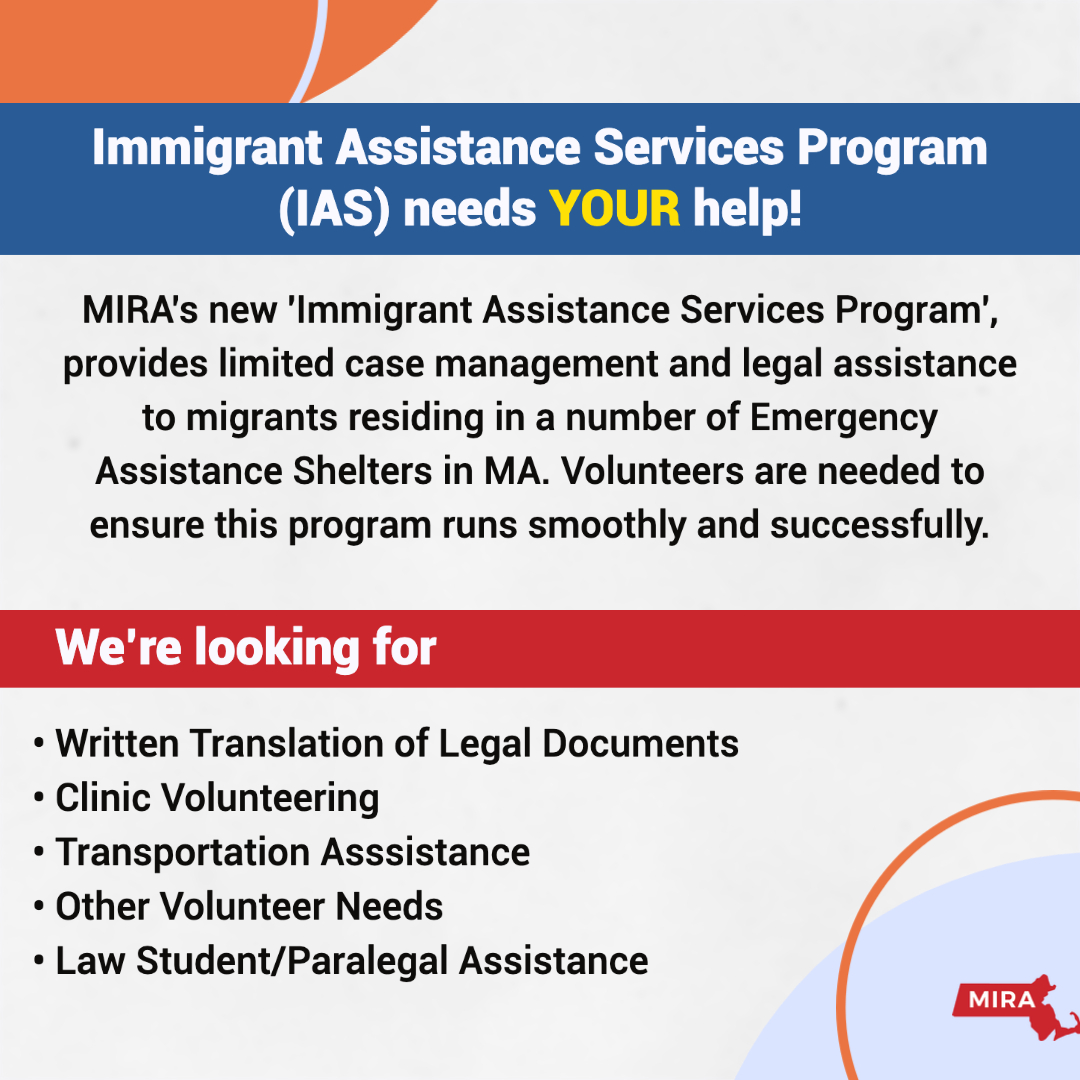 (IAS) in the media