New American Changemakers Program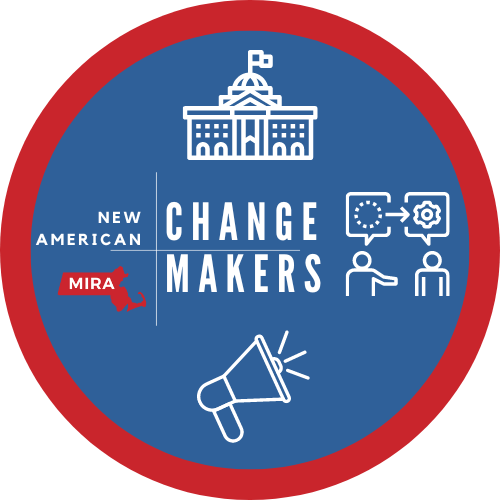 The MIRA coalition is launching our New American Changemakers program to uplift the voices of newly naturalized U.S. citizens and create more opportunities for civic engagement and participation in MIRA's advocacy work. Participants will attend a series of four workshops on topics related to understanding our local, state, and federal government structures, learning about MIRA's key policy initiatives, and gaining skills to successfully advocate with policymakers. The program will conclude with participation in a civic engagement activity. We aim to create long-lasting relationships with participants and plan to provide ongoing opportunities for civic engagement and involvement with MIRA's work long after the program ends.
Content of the program
Participants must be able to commit to participating in four virtual 90-minute workshops, as well as a final civic engagement activity, over the course of approximately 5-6 weeks. This year's cohort will join the following cohorts taught by MIRA experts.
Government 101
In this workshop, participants will learn about the structure of our local, state, and federal governments, who does what, and how decisions relevant to immigrants' lives are made. We will also take a critical look at the US democratic system, who has power, and who is disenfranchised.
Current policy issues
In this workshop, participants will learn about the top immigration policy issues at the local, state, and federal levels. We will learn about arguments on both sides of an issue and have an opportunity to debate them.
Advocacy 101
In this workshop, participants will learn how to effectively meet with policymakers. By using role-playing exercises, we will learn how to express opinions on policy issues effectively, balancing policy and storytelling.
Civic Engagement Training
In this final workshop, participants will receive training specific to the civic engagement opportunity they will participate in at the end of the program. This could be a training on how to assist people in registering to vote, how to phone bank or text bank, or preparing to participate in an advocacy meeting with policymakers.
Civic Engagement Activity
The civic engagement activity at the end of the program will vary depending on timing but can include voter registration, participation in a meeting with legislators or other policymakers, and phone or text banking. We will strive to offer both in-person and remote options.
Scholarships:
Participants who complete the entire program (4 workshops plus civic engagement activity) will receive a $250 scholarship. The scholarship is meant to reward participants for their time and commitment to greater engagement in their communities, and ensure equitable access to the program for those who may need additional support in order to participate.
The first cohort of the program (November-December 2022) will be open to recently naturalized citizens who received citizenship application assistance through MIRA. In early 2023, we will be launching a second cohort which will be open to any New Americans, so check back here later this year for more information and an application to express interest in participating in the program! If you have any questions about this program please contact our citizenship team at citizenship@miracoalition.org