Democracy School
Democracy School is MIRA's signature capacity-building program for organizers, offered as full- and half-day workshops every year in partnership with MIRA members across the Commonwealth.
The goal of Democracy School is to build organizers and advocates' understanding of the systems we're trying to influence – from City Hall, to the Legislature, to the federal government – and provide training on organizing and capacity-building that can be applied in the field right away.
Whether you're a young activist just getting started or a seasoned community organizer Democracy School offers a chance to build your skills, connect with organizers and advocates in your region, and make a bigger impact together.
REGISTER FOR THE 2020 DEMOCRACY SCHOOL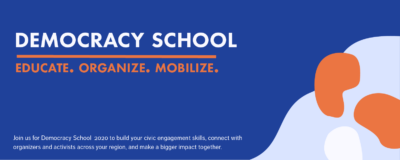 This year, MIRA is partnering with MVT, MassVOTE, APIS CAN, and our regional partners to provide a 3-hour virtual training focused on building a collaborative and data-driven voter education and mobilization field program this election season in the following 6 regions:
East Boston to Salem
Tuesday, September 15 at 5:00-8:00 p.m.
Register here: http://bit.ly/DS2020_BostontoSalem
Merrimack Valley
Thursday, September 17 at 5:00-8:00 p.m.
Register here: http://bit.ly/DS2020_MerrimackValley
Western Mass
Tuesday, September 22 at 6:00-9:00 p.m.
Register here: http://bit.ly/DS2020_WesternMass
Boston to Brockton
Wednesday September 23 at 4:00-7:00 p.m.
Register here: http://bit.ly/DS2020_BostontoBrockton
Central Mass and MetroWest
Thursday, September 24 at 4:00-7:00 p.m.
Register here: http://bit.ly/DS2020_CentralMetroWest
Southcoast
Monday, September 28 at 5:00-8:00 p.m.
Register here: http://bit.ly/DS2020_Southcoast