DACA and Dreamers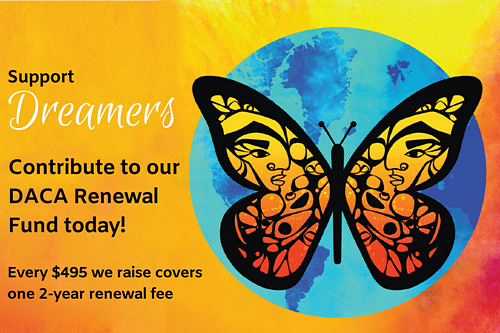 Free legal assistance!
Information DACA in English & Spanish
UPDATE: September 21, 2023: The Biden administration has issued  final regulation codifying the DACA program. The regulation is scheduled to take effect on October 31, 2022. The regulation would not change the eligibility criteria for DACA. Despite the new regulation, immigration will not be accepting initial applications for DACA even after the regulation takes effect, due to the September 2023 court order described below. Individuals who have DACA (or whose DACA expired less than a year ago) can continue to renew it. Read more about the new regulation here.
A federal court in Texas has issued a decision finding the DACA program unlawful.  USCIS currently cannot process initial DACA applications. USCIS is continuing to process and grant renewal DACA applications at this time. The Biden-Harris administration has announced it will appeal this decision and has issued statements confirming its commitment to protect Dreamers from deportation and calling on Congress to act to create a path to citizenship for Dreamers.
MIRA has produced a fact sheet summarizing what you need to know about the September 2023 ruling as a current DACA, previous, or new DACA recipient or applicant – for more information, please contact citizenship@miracoalition.org.
A life-changing program
Deferred Action for Childhood Arrivals (DACA) has transformed the lives of nearly 800,000 of young immigrants since it was introduced by President Obama in 2012. It offered safety from deportation, a work permit, and a chance to get a driver's license, buy a home, and make a life in the U.S. As a Harvard University study of DACA recipients put it, DACA is "arguably the most successful policy of immigrant integration in the last three decades."
In Massachusetts, about 19,000 people were eligible, and another 4,000 could qualify in the future – but only about 8,000 ever applied. And DACA never protected everyone who needed it; it only covered childhood arrivals prior to June 2007, and it required enormous trust in the goodwill of the U.S. government.
In September 2017, President Trump announced he would end DACA within six months. He called on Congress to find a long-term solution for Dreamers, but multiple efforts to reach agreement failed. After almost three years of litigation, in June 2020, the U.S. Supreme Court ruled that DACA had been unlawfully rescinded, because although the president has the legal authority to end the program, he did not follow the appropriate process (read MIRA's statement).
DACA enrollment had declined even before the rescission, to about 5,900 in Massachusetts as of September 2017, and has declined more since, to 5,560 as of December 31, 2019. Nationwide, the vast majority of DACA recipients have kept renewing, but the total number of active DACA holders has dropped, from a post-injunction peak of 704,000 in July 2018 to 649,070 as of December 2019.
It is more urgent than ever for Congress to step up and protect DACA recipients and all Dreamers, including more recent arrivals. The U.S. House of Representatives passed the Dream and Promise Act in June 2019, but the bill and a separate DREAM Act are both stalled in the Senate. Contact your Senators and Senate leadership now!
MIRA stands firmly with Dreamers in their push for recognition as full-fledged Americans, and we are committed to supporting DACA recipients to ensure they keep their protections active.
If you need help with the DACA application, MIRA can help you! Just fill out this form.
For authoritative, regularly updated information on DACA litigation, see the National Immigration Law Center.
We also recommend this excellent overview of DACA's positive impact on beneficiaries and the whole economy.
Key resources