In loving memory of Christine Ntagengwa

Christine Ntagengwa (she/her) was MIRA's former MIRA Senior Director of Programs.
As someone displaced by the 1994 genocide in her native Rwanda, Christine had a passion for helping immigrants and refugees settle in the U.S. After graduating from Divinity School in Kenya in 1999, she came to the U.S. in 2000, earned a Master's of Social Work from Boston University in 2012, and joined MIRA in July 2014 with over ten years' experience working in refugee and immigrant resettlement. Christine served as a board member of the Chelsea Collaborative for three years and Umunara, Inc through the present time. She received the 2008 "Unsung Heroine Award," from the Massachusetts Office for Refugees and Immigrants in recognition of her work helping "uprooted people."
She lead and has aligned MIRA's AmeriCorps New American Integration Program which provides English for Speakers of Other Languages (ESOL) instruction, job readiness training, and citizenship services at community-based organizations across Massachusetts; membership services; citizenship and training and education work.
In January 2023, Christine passed away after a short battle with cancer. We thank Christine for all of her amazing and impactful work with MIRA and with immigrant and refugee communities throughout Massachusetts. Her absence is deeply felt but we are so grateful for all of the positive memories and wisdom she instilled in everyone who was lucky to know her.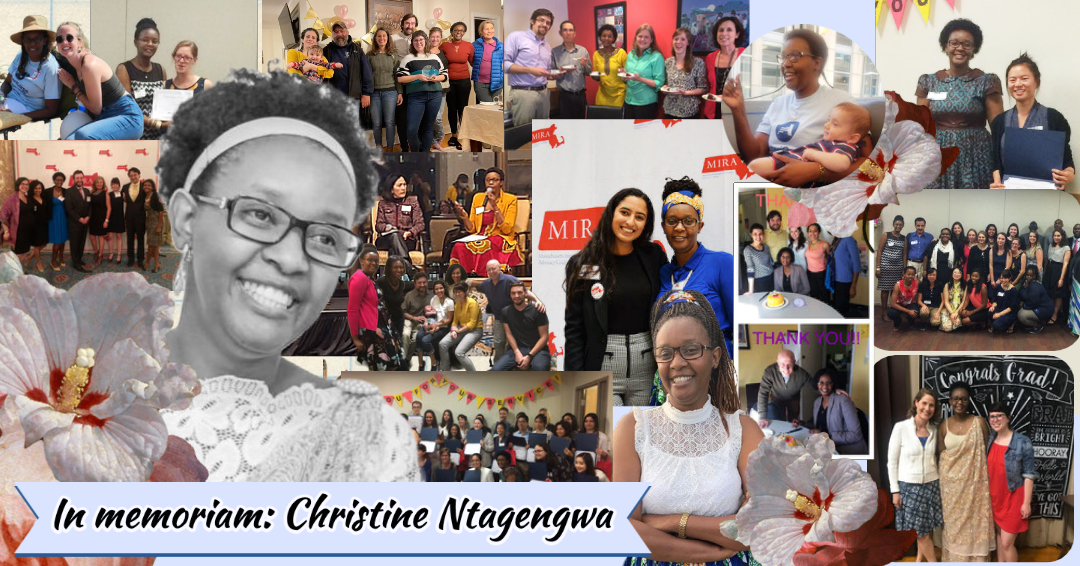 Christine was loved and appreciated by many people. Here are some of their thoughts.
"Christine was my classmate for six years in high school and teachers college in Rwanda. 
She is a very special person. Only God knows her better than all of us."
~ Fabien Nkurunziza (he/him)
"Christine welcomed me to MIRA with her incredible warmth, kindness and knowledge of the AmeriCorps program management.  She then welcomed me into her home for an amazing home-cooked meal where I felt lucky to dine with her and her wonderful family. She had such a great laugh that I will never forget."
~ Toni Machowsky (she/her) – MIRA Coalition
"I was an AmeriCorps fellow during the 2015-2016 year at MIRA. Christine was passionate and kind-hearted. Her work and dedication to immigrants and refugees inspired me to continue working with this population after my time with MIRA. I'm so grateful to have known her and work with her. Any situation that the fellows were facing she was there with a solution and a shoulder to lean on, whatever we needed."
~ Danya Ravid (she/her)
"I was so saddened to hear of Christine's passing. Christine was a great leader. She welcomed me to AmeriCorps service with a warmth and passion that immediately put me at ease. She was also a friend, an advocate, and a mentor who helped affirm my pursuit of advanced study in social work – something she practiced naturally, with grace and humility. Christine touched many lives in the Boston community and beyond, and her loss will be felt for many years to come. I offer my deepest sympathies to Christine's family and hope that her memory should always bring them a smile through the tears."
~ Shane (He/him) – AmeriCorps/NAIP/MIRA
"She was the first person who interviewed me for the NAIP program and throughout my service every time I met with her, she would just melt my heart with her kindness, her beautiful soul and smile."
~ Diane Joly (she/her) – MIRA Coalition
"Christine always had a huge smile, warm hug, and a positive spirit when you met her.  She genuinely cared about her work, which was evident when watching her in action.  Her loss will be felt by all of us who were blessed to work with her over the years.  She will always be remembered by those she served so selflessly.  Our deepest sympathy to her loved ones."
~ Marjean A. Perhot – Catholic Charities Boston Refugee and Immigrant Services
"As a new member of NAIP Americorps one phrase from the training has stayed with me. Christine told us not to worry, that everyone is learning here. This took away any fear of starting a new role."
~ Mohamed Khattach – The Right To Immigration Institute – Americorps NAIP
"Christine was a huge support to me when I went to Rwanda with the Peace Corps. She shared her experiences with me, offered to connect me with family and on one occasion provided some emergency translation regarding bedsheets. When I returned, she was so helpful in the processing of my experience. She offered support when I was applying for jobs and graduate programs as I pursued next steps. She was a such a grounding presence and she brought a depth to my experiences that I would not want to be without."
~ Ataleigh Inhoff – MIRA, NAIP Alum
"Christine was a leader in the Massachusetts AmeriCorps community, and I considered her a mentor. She was a skilled and sensitive manager, and you could always count on her for a thoughtful idea or observation. She was devoted to the AmeriCorps members who served in her program. She inspired me to do my job better. I will miss her."
~ Amy Copperman (she/her) – MLPB, formerly from AmeriCorps Legal Advocates of Massachusetts
"Christine was a truly kind, caring human. It was wonderful having her as a mentor during my year with NAIP at the MIRA Coalition. Her mentorship helped me decide to go to law school. I'm now a third year attorney doing asylum work with immigrant children. I'm so grateful for her dedication to the work and to our clients, she led with grace."
~ Kim Boche (they/them) – Former NAIP member with MIRA Coalition
"Christine was always communicative and had positive and impactful feedback on AmeriCorps members, their contributions, and supporting refugees. She was a strong partner and advocate, and always so friendly and professional. We will miss her dearly!"
~ Hannah Odaa (she/her) – JVS Boston
"I feel very blessed to have had Christine in my life both personally and professionally. She brought so much joy and passion to everything she did and I knew that I could always count on her to speak up during a training and engage fully in whatever she was doing. I often turned to her for her expertise on some many topics, but especially on how to best support members at her program. She was often a panelist for us or represented our network to the wider public. She just brought so much to our network and she will be so dearly missed. My thoughts are with her family and I thank you for sharing her with us. In the spirit of service, Christine got things done!"
~ Lisl Hacker (she/her) – Massachusetts Service Alliance
"In my first all-staff meeting, which was also my first time meeting most of the MIRA team, Christine immediately made me feel like a welcome and valued member of the team. Christine's smile, her warmth and her kindness are my first and lasting impression of her."
~ Lindsey Shaffer (she/her) – MIRA Coalition
"Christine, your legacy will still live on with many lives you touched and the programs you worked with and the sites supported. I loved your story of "we need a KEY to drive" and I always remember the summer of 2018 that we worked together for the AmeriCorps members' graduation at BEST. Your kindness, thoughtfulness and dedication to serve immigration and refugee population will GO ON!"
~ Huiling Chen – BEST Hospitality Training
"I have so many fond memories of working with Christine over the last eight years. We loved sharing pictures, me of my children, and her of her children and later grandchildren. She was so proud of her family. In her work, Christine was a passionate advocate for what was right, and willing to go the extra mile to find solutions, to improve AmeriCorps members' service and lives. I admired her so much as a person, her dedication to others and her faith was extraordinary. I will always hold our friendship in my heart and look to her memory as an inspiration to do more to help others."
~ Rachel Irvine (she/her) – MSA