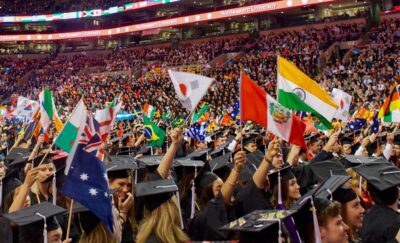 BOSTON – On Monday, Immigration & Customs Enforcement (ICE) announced that international students on F-1 and M-1 visas will be required to leave the country if the college or university program they're enrolled in is online only – and even under some circumstances if the schools are operating on a hybrid online/in-person model.
The impact on higher education could be enormous, across the U.S. and in Massachusetts in particular. In the 2018–19 academic year, a record 1.1 million foreign students attended U.S. colleges and universities, including 71,100 in Massachusetts – which has the nation's fourth-largest international student population, after California, New York and Texas.
"This is an attack on higher education, with no discernible benefits to the U.S., but the potential to wreak havoc for hundreds of thousands of students," said Eva A. Millona, president and CEO of MIRA. "The administration is not only using the pandemic to advance an extreme nativist agenda – it is also showing reckless disregard for public health by penalizing schools that take COVID-19 protection seriously."
Students who cannot comply with the new policy would be required to leave the U.S. Not only may this prove difficult, given ongoing travel restrictions, but logging in from abroad might prove impossible due to connectivity issues and many other factor. As a result, many could be forced to abort their studies.
Many schools have also made it clear that even if they reopen their classrooms, they may shut them down again if there is a spike in COVID-19 infections. If international students cannot count on being able to safely stay in the U.S. under those circumstances, they are in an impossible bind.
Today, Harvard University and the Massachusetts Institute of Technology (MIT) sought a temporary restraining order to block implementation of the new policy, arguing that it would have the effect, perhaps deliberately "to create chaos for schools and international students alike."
"We stand with Harvard, MIT and all colleges and universities in vigorously opposing this policy," Millona said. "International students make major contributions to U.S. higher education, not only through their tuition, but through their talent and diverse perspectives. It is truly sad that nativist zeal has so blinded this administration that it chooses, again and again, to act against our nation's interest."