2020 Honoree: Secretary Rosalin Acosta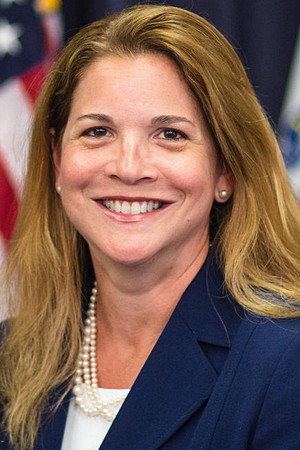 Rosalin Acosta is Secretary of Labor and Workforce Development for the Commonwealth of Massachusetts. Her team works to ensure that workers and employers have the tools, training and safety resources needed to succeed in our economy – a mission that is more crucial than ever. She also chairs the Workforce Skills Cabinet with the Secretaries of Education and Housing and Economic Development.
Born in Cuba, she immigrated to the U.S. when she was 3. Her parents, both college professors in Havana, found themselves working in a factory and a machine shop. Eventually, after learning more English and going back to school, they were able to return to teaching, but it took years of struggle.
"Nothing moves me more than that story," she said at Immigrants' Day at the State House in 2018. "It informs everything I do every day, my work ethic, my core values … My parents taught me perseverance, but they also taught me optimism, and they also taught me failure was not an option. Things sometimes don't seem fair… but you know what? We don't have time to feel sorry for ourselves. We don't have time [for self-] pity, because we have children to feed… pity is not part of our vocabulary as immigrants."
After graduating from Wesleyan University in Connecticut, she built a 30-year career in banking and finance. She has been named one of Boston's Most Influential Women by the Women of Harvard Club and El Planeta's Top 100 Most Influential Hispanics in Massachusetts. She has also been awarded the Lifetime Achievement Award from the Association for Latino Professionals for America (ALPFA).
She also has a long track record as a civic leader, public speaker and cultural ambassador on matters of diversity, motivating youth and Latinx leadership. The common strands that run through her life and career are leadership, mentorship, passion and success. She has served on the board of The Boston Foundation, as a Board Overseer at Boston Children's Hospital, and as a Director and Planning Committee Member of the Merrimack Valley Workforce Investment Board, among others.
Secretary Acosta is a role model, an inspiration, and a highly effective leader in a position to make an enormous impact for immigrants and refugees and all the people of Massachusetts. We are delighted to honor her at Give Liberty a Hand 2020.