Immigrants Day at the State House 2023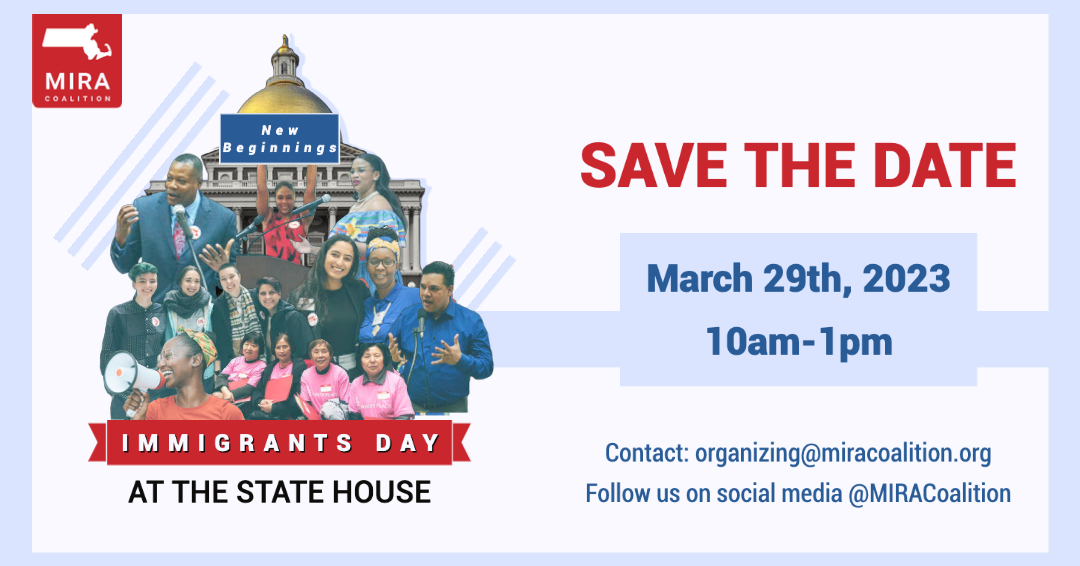 This year MIRA will be celebrating our 27th annual Immigrants' Day!
Immigrants' Day is one of our proudest events where we gather hundreds of immigrant and refugee constituents from across the Commonwealth to celebrate their contributions and advocate for their legislative and budget priorities. This year's program will be our first back in the State House since 2019!
2023 marks positive, new beginnings in immigration politics and immigrant-led initiatives that we invite you to support with us. We will be advocating for housing security, language access, foreign trained medical licensure, the Safe Communities Act, tuition equity, and child healthcare.
The event will kick off with a speaking program, followed by visits with legislators where community members can speak directly to the policies that affect their lives. Volunteer participants will also have the opportunity to freely visit individual offices.
We are privileged to have State Representative Danillo Sena, Representative Rita Mendes, Governor Maura Healey, Dr. Laith Almatwari, Yes on 4's Campaign Director Crisayda Belen, La Colaborativa's Health Advocate Brenda Romero, and MIRA's Executive Director Liz as some of our speakers! Other speakers and details will be announced soon.
____________________ 2023 Speakers;____________________
Governor Maura Healey
Representative Danillo Sena
Speaker Ronald Mariano
Liz Sweet, Executive Director of MIRA
Brenda Romero, La Colaborativa, Mass Speaks & Feeding our Neighbors
Crisayda Belen, Driving Families Forward
Cristian Dubon Solis, Stories Inspiring Movements (SIM)
Laith Almatwari, MD, Physician Pathway Act
Representative Rita Mendes
Interpretation will be available in Spanish, Portuguese, Haitian Creole and Mandarin Chinese. Please note, after the speaking program, groups will be directed to visit legislators' offices to advocate for MIRA's legislative bills.
Use our social media toolkit to help us promote Immigrants Day at the State House.
____________________ In Spanish ____________________
¡Este año vamos a celebrar nuestro 27º aniversario del Día del Inmigrante!
El Día del Inmigrante es uno de los eventos que más nos enorgullece, donde reunimos a cientos de inmigrantes y refugiados de todo el estado para celebrar sus contribuciones a la comunidad y abogar por sus prioridades legislativas y de presupuestos. ¡El programa de este año será nuestro primer regreso a la Casa Estatal desde el 2019!
Este 2023 marca nuevos comienzos positivos en la política de inmigración e iniciativas que han sido dirigidas por inmigrantes, es por eso que los invitamos a apoyar estos cambios juntos. El 29 de Marzo, abogaremos por prevención de falta de vivienda, capacidad de acceder información en el idioma propio, licencias médicas para profesionales extranjeros, una Ley para tener comunidades más seguras, matrículas universitarias equitativas, y atención médica para niños.
El evento comenzará con discursos por algunos oradores invitados, seguido por visitas programadas con legisladores donde la comunidad participante puede hablar directamente sobre las políticas que más los afecta. Los voluntarios también tendrán la oportunidad de visitar individualmente las oficinas de los legisladores.
¡Tendremos el privilegio de tener al representante estatal Danillo Sena, representante Rita Mendes, Gobernadora Healey, Dr. Laith Almatwari, la directora de la campaña Yes on 4 Crisayda Belen, promotora de salud de La Colaborativa Brenda Romero, y la directora ejecutiva de MIRA Elizabeth Sweet como unos de nuestros oradores! Se anunciará otros oradores y más detalles pronto.
____________________ In Portuguese ____________________
Este ano vamos comemorar o 27º aniversário do Dia do Imigrante!
O Dia do Imigrante é um dos eventos de que mais nos orgulhamos, onde reunimos centenas de imigrantes e refugiados de todo o estado para celebrar suas contribuições à comunidade e defender seu orçamento e prioridades legislativas. Esta edição será nosso retorno ao evento presencial no Congresso Estadual de MA desde 2019.
O ano 2023 marca novos começos positivos na política de imigração e nas iniciativas lideradas por imigrantes, e é por isso que convidamos você a apoiar essas mudanças com a gente. Em 29 de março, defenderemos a lei anti-expulsão de moradia, a capacidade de acessar informações públicas nos idiomas nativos, licenças médicas para profissionais estrangeiros, proteção de informação dos residentes fora de status, e por fim. Também advogaremos por bolsas de estudos igualitárias para todos estudantes da rede pública, e assistência médica para todas as crianças residentes em nosso estado.
O evento terá início com intervenções de alguns oradores convidados, seguindo-se visitas agendadas com legisladores onde a comunidade participante poderá falar diretamente sobre as políticas que mais a afetam. Os voluntários também terão a oportunidade de visitar individualmente os gabinetes dos legisladores.
Teremos o privilégio de ter o Deputado Estadual Danillo Sena, Deputado Estadual Rita Mendes, Governadora Healey, Dr. Laith Almatwari, diretora da campanha do Yes on 4 Crisayda Belen, promodora de saúde da La Colaborativa Brena Romero, e Diretora Executiva da MIRA Elizabeth Sweet como alguns dos nossos palestrantes! Mais palestrantes e detalhes serão anunciados em breve.
____________________ In Haitian Creole ____________________
Ane sa Mira ap selebre 27èm anivèse anyèl Jou imigran! Jou imigran se yon selebrasyon ki fè fyète nou anpil, kote nou reyini Santèn imigran ak refije alantou kominote yo pou yo selebre kontribisyon yo epi defann priyorite lejislatif ak bidjè yo. Pwogram ane sa se ap premye retou nou nan kay leta depi 2019!
2023 a maké pozitiv, yon nouvèl kòmansman nan imigrasyon politik epi inisyativ imigran ke nou envitew sipòte avèk nou. Nap defann sekirite chanm nan, Aksè ak langaj, Antrènman lisans medikal pou etranje, ak sekirite kominotè, Bous detid ekite, ak Swen medical pou timoun piti.
Evènman sa ap demare ak yon program diskou, swiv ak vizit lejislatè yo kote manb kominote yo ka pale dirèkteman sou règ ki aftekte lavi yo. Patisipan volontye yo ap gen opòtinite lib pou yo vizite chak biro.
Se yon privilèj pou nou genyen Reprezantan Eta Danillo Sena, Reprezantan Rita Mendes, Gouvènè Maura Healey, Dr Laith Almatwari, Direktè Kanpay Yes on 4 Crisayda Belen, Pwomotè Sante La Colaborativa Brenda Romero, ak Direktè Egzekitif MIRA Elizabeth Sweet kòm kèk nan oratè nou yo.
Nap anonse lòt detay ak moun ki gen poun pran la pawòl pa twò lontan.
____________________ In Mandarin Chinese ____________________
今年 MIRA 将庆祝第 27 个年度移民日!
移民日是我们最引以为豪的活动之一。我们聚集了来自全州的数百名移民和难民选民,庆祝他们的贡献并倡导他们的立法和预算优先事项。今年的计划将是我们自 2019 年以来首次回到州议会大厦!
2023 年标志着移民政治和移民主导倡议的积极新开端。我们邀请您们与我们一起支持这些倡议。我们将提倡住房保障、语言使用、外国培训的医疗执照、《安全社区法》、学费公平和儿童保健。
该活动将以演讲节目拉开序幕,随后将拜访两院议员,让社区成员可以直接就影响他们生活的政策发表意见。志愿者还将有机会自由参观各个议员办公室。
我们很荣幸有州众议员 Danillo Sena,州众议员Rita Mendes,州长Maura Healey,博士Laith Altatwari,Yes on 4的竞选总监Crisayda Belen,La Colaborativa的健康倡导者Brenda Romero和MIRA的执行董事Elizabeth Sweet作为我们的一些发言人!其他的发言人和详细信息将很快公布。