Joe Ronca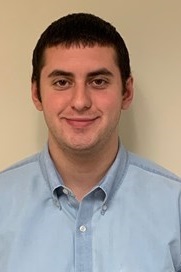 Host Site: English at Large
Location: Woburn
Role: I run a 15-week course for immigrants that aims to simultaneously improve their career skills and their English language proficiency.
Where are you from? Derry, N.H.
Why do you serve? I'm inspired to join NAIP AmeriCorps by all the outstanding and hard-working immigrants and refugees that I've encountered in my life. They've taught me so many valuable lessons and as the current climate is generally hostile towards people from outside the United States, I'd love to make people feel more welcome and accepted here in Massachusetts.
Personally, I'm the grandson of immigrants to this country, so I'm aware of the hardships and sacrifices involved in that. I also spent an extremely rewarding semester interning at the International Institute of New England working with refugee clients, mainly from the Congo and Burma. These experiences have really hammered home how immigrants and refugees enrich our country and make it a better place to live, so I'd love to contribute to making them feel at home through service with NAIP.
What are you passionate about? Outside of work I like to hike, play sports, especially basketball, and lift weights. I also enjoy reading and writing creatively.