Error

JUser::_load: Unable to load user with id: 62
MIRA Blog
MIRA advocates for the rights and opportunities of immigrants and refugees. In partnership with its members, MIRA advances this mission through policy analysis and advocacy, institutional organizing, training and leadership development, and strategic communications.
Blogger: Samuel
I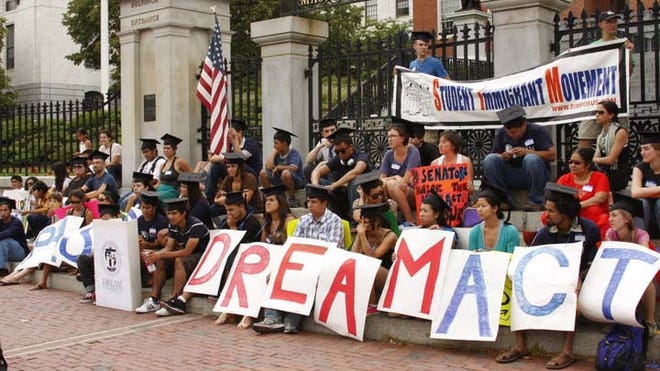 n the lyrics of Sam Cooke, "It's been a long time coming, but I know…a change is gonna come."
Today, President Obama will announce lifting the threat of deportation for some undocumented students and granting them work authorization on a temporary and renewable basis.
In a memo released this morning from Department of Homeland Security Secretary Janet Napolitano, an estimated 1 million young people could be eligible for DHS's "deferred action" directive. Students in the U.S. who are already in deportation proceedings or those who qualify for the DREAM Act, will not be deported and will be eligible for work permits.
To be eligible, applicants must be between 15 and 30 years old and have resided in the U.S. for at least five years continuously. Students can either be presently enrolled, graduated, received a high school diploma/GED, or be honorably discharged from the Coast Guard or armed forces. People who have one felony, one serious misdemeanor, or three minor misdemeanors will be ineligible to apply. Minor traffic violations such as driving without a license, will not be counted. Deferred action will last for two years and can be renewed, meaning long-term relief is still be predicated upon legislative change.
Republic Senators blocked the DREAM Act in 2010, after it passed the House – the furthest it has gone in the legislative process. The DREAM Act offers a pathway toward permanent residency for young people who have completed some college or military service. This year, House Judiciary Committee Chair Lamar Smith (R-TX) has already said he would not hold a hearing on the DREAM Act in his committee. Recently, Senator Marco Rubio (R-FL) has expressed support for a scaled-back version of the bill.
This announcement is a much-needed boost to our nation's spirits and economic vitality. While this is a milestone for the immigrant rights movement, and a long overdue help for the young people who have known no other home other than the US, it is important to recognize that this does not alleviate the need for congressional action and comprehensive legislation.
The administration's action today is not guaranteed immunity or categorical amnesty. Instead, the process will still be subjected to the discretion of individual field officers. Today's directive and broadening of criteria is certainly promising, but it is important to prevent the spreading of false information and exploitation of immigrants.

Further details regarding the detailed process and implications on access in-state tuition, conditions for travel, etc. are forthcoming.

Tune in at 1:15 p.m. for the President's statement.
(Photo: Massachusetts student activists advocating for the DREAM Act in front of the State House in 2010)